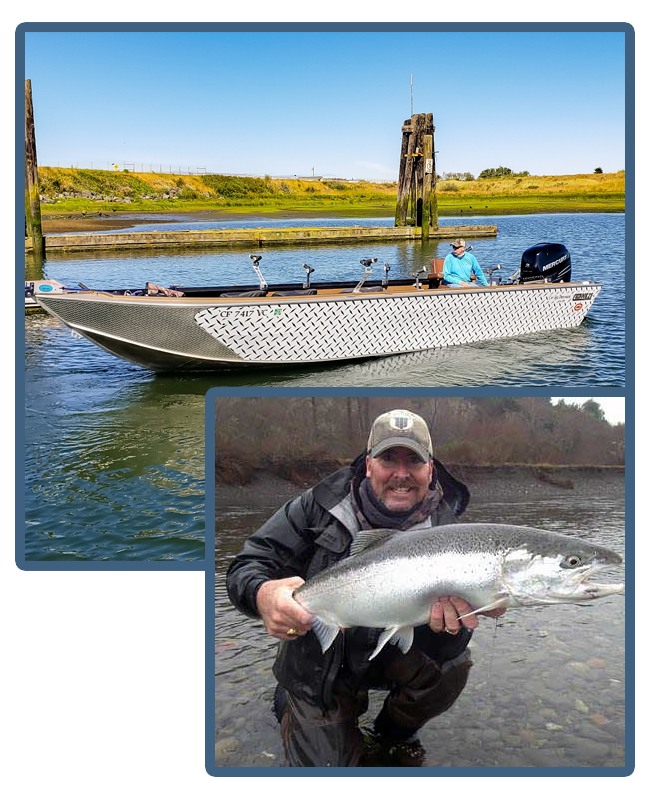 For over 34 years, Kirk Portocarrero has guided fishing and hunting expeditions in Northern California and the Southern Oregon Coast. Having traveled all over the world, fishing and hunting in Alaska, Hawaii, New Zealand, Africa, Europe, and throughout the Western States, Kirk now spends much of his time guiding on the Rogue River in Gold Beach.
Kirk will ensure that your trip is both educational and enjoyable, no matter what your level of experience is as an angler. With Kirk's vast knowledge and passion for fishing, new and seasoned fishermen alike are sure to benefit from his patience and dedication to safety. A hunt in the wilderness for the catch of a lifetime is only a phone call away!
In NorCal and lower Oregon, Kirk has become intimately familiar with the fisherman's paradise known for its outdoor beauty and abundance of wildlife. As a fisherman, Kirk lives, breathes, and succeeds in the outdoors. In addition to staying current on the latest trends and technologies, he participates in many outdoor shows and events, educating people on best outdoor practices.
Aside from appearing on the covers of many well-known magazines, including Fishing & Hunting News and Western Outdoor News, Kirk has also contributed articles to Game & Fish Magazine, The Fish Sniffer Magazine, Field & Stream, and others. Worden's – Yakima Bait Company even named him "West Coast's Top Guide"!